What Content Can COMMONTARY Be Used For?
COMMONTARY delivers an alternate audio option for any video viewing experience, live or recorded. Users can create their own audio broadcast, or listen to an alternate audio stream either on top of the video feed or independently with the video muted.
Content providers can supplement their offerings and provide an alternative viewer experience that enhances the original broadcast, and can add viewing segments, without abandoning the core audience. The added audio feed can be listened to either in lieu of the original audio or on top of the video. 3rd party content can also be narrated. In addition, individuals can generate their own alternate audio content.
Substitute Audio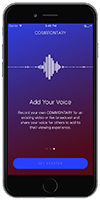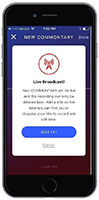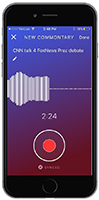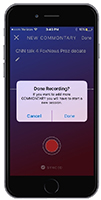 Sports TV Broadcasts

Analysis and play by play from an expert other than network commentators

Sports Radio Broadcasts

Radio feed can be synced to match video broadcast

Gaming Tournaments and Live Gaming Events
Supplemental Audio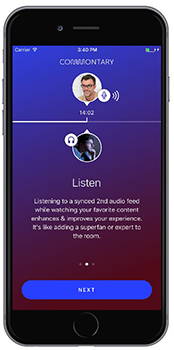 Produced Programming

Celebrity/Talent commentating on content, e.g. Chris Hardwick hosting "Talking Dead" live while "The Walking Dead" is being aired

Political Debates and Speeches

CNN reporter reactions & opinions on what candidates are saying and how FOX News-hosted debate is going

Award Shows and Beauty Pageants

TMZ reporter commentary on wardrobes, speeches, gossip, etc. during Academy Awards broadcast

Reality TV Talent Shows

"America's Got Talent" prior contestant or celebrity analysis of performances, scoring, agreeing/disagreeing with judges

Game Shows

Celebrity/Talent "competing" on "Jeopardy", answering show questions, commentary on contestants & host

Reality TV

Celebrity/Talent commentary on characters and content, predicting outcomes

Education

Real time language translation, professional lecture/lesson analysis, etc.